The very first thing people notice in others is their smile. Crooked, overlapping, overcrowded or missing teeth can lower your confidence. Not only that, in several cases, people with damaged teeth might lose appetite since it becomes difficult for them to chew or eat food. Some also slur while talking. That's why people these days opt for cosmetic dentistry which is a one stop solution to dental problems and focuses on improving the appearance of teeth and smile. 
We at Livonta Global Pvt Ltd ensure that you get top notch medical treatment at low cost from 100+ best hospitals in India. It also covers dental treatment in India. Tooth implant cost in India is between Rs. 35,000 to 45,000 and it takes about a week's time. The price depends on factors like type, material and design of the implant.
There are several kinds of implant supported prosthesis like metal-acrylic resin, metal-ceramic prosthesis, all ceramic prosthesis etc. They are wonderful replacements for a missing tooth. Implant-supported prosthesis is technically a prosthetic appliance that is supported by dental implants. Before finalizing the type of prosthesis, it is advisable to get a dental examination done. Based on the data, the doctor will suggest which prosthesis is the most suitable for you.
Metal-Acrylic Resin Implant
(image courtesy:oasisdentalmilton.com)
Metal-acrylic resin is a fixed implant prosthesis which is excellent, reliable and long lasting. In this implant, a metal framework is designed specially to help retain the acrylic resin that is attached to the implants. You must be thinking how does it fit perfectly? Here is the answer to your question. It uses CAD (Computer Aided Design)/CAM (Computer Aided Manufacturing) in order to bring precision in frameworks. It fits just perfectly in your mouth. If you need to repair or adjust the prosthesis, metal-acrylic resin is easier in comparison to other prostheses.
Metal-Ceramic Prosthesis
(image courtesy:prisma13.com)
The second type of prosthesis is metal-ceramic prosthesis. This is the most widely used prosthesis. It is popular because the ceramic material used in this prosthesis replicates tooth enamel. It looks far better than metal. You can choose the colour of the ceramic suitable to your natural teeth. It will be difficult to distinguish it from natural teeth. It is both durable and reliable. It has durable porcelain crowns which strongly hold onto the implant. CAM process brings immense precision into the entire process and delivers extremely comfortable results.
All Ceramic Prosthesis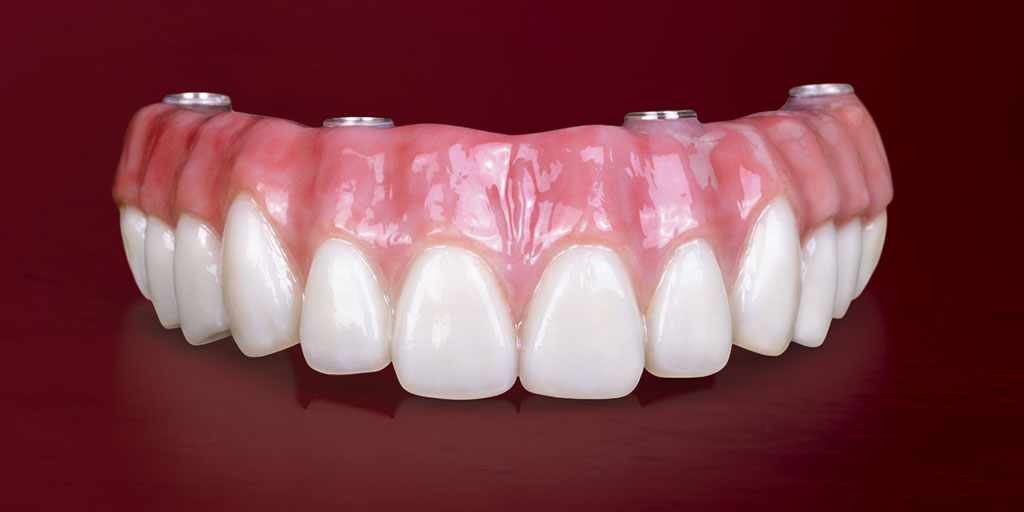 (image courtesy:zirteeth.com)
If you want prosthesis without metal, all ceramic prosthesis is the best option for you. It lacks a metal frame and uses zirconia instead. Patients who have allergic reactions to metal should opt for all ceramic prosthesis. All thanks to advanced technology, restoring missing teeth or treating damaged dental structures have become easier with innovative dental restoration.
 Apart from improving teeth's appearance, these prostheses have several other benefits.
It functions like natural teeth.

It makes damaged teeth more stable and fixed.

Helps you chew food and eat better.

Denture or damaged teeth can make patients lose appetite. In some cases, patients also slur while due to loose  denture. It makes smiling uncomfortable. Implant supported prosthesis solves all these problems since they  are fitted like natural teeth.

Dental implants can take your confidence to an all new level and greatly boosts  self-esteem.

There is no need for adhesives to hold them in a place.

They merge seamlessly with your mouth structure and function like natural teeth.
One dental implant can change your life by boosting your confidence while smiling, eating and speaking. The icing  on the cake is that they are easy to maintain, cost-effective and durable.
The doctor will take an x-ray of the mouth structure, evaluate dental condition and introduce you to available options. Prior to the treatment, make sure you clear your doubts. Be assured, prosthesis does not just improve your appearance but also brings positive changes in the way you live. 
Dental Treatment
Tags: dental treatment in india, Metal-Acrylic Resin Implant, Metal-Ceramic Prosthesis, tooth implant cost in india