Cases of prostate cancer are increasing at an alarming rate in Asia and India. This is a unique type of cancer which only affects men. Its origin lies in the prostate, a gland in the male reproductive system. In Western countries, it is one of the most commonly diagnosed male cancers. Slowly, its spread is increasing in India looking at the number of cases reported in the last few years. However, one of the reasons behind this is the increased number of Prostate-Specific Antigen tests. This has made early detection of cancer possible. Thankfully, if timely detected and treated, this cancer can be cured and men with prostate cancer can live longer. It is commonly seen in sexagenarians and above. Best cancer treatment in India is now available and the chances of survival have also gone up.
Prostate cancer is caused due to abnormal growth of cells in the prostate gland and other remote parts of the gland. They form a malignant tumour which can spread in the other parts of the body as well. The root cause of prostate cancer is yet not found. Experts believe that exposure to radiation, ageing, obesity, heredity and race are some of the major reasons behind this cancer. Men should be alert if they find hesitancy in urination, constant urge to urinate, dribbling, inconsistent urine stream and agonizing ejaculations. If the cancer is diagnosed at an early stage, the chances of recovery are better. One should seek timely medical intervention once the cancer is diagnosed.  
India has some of the finest hospitals for prostate cancer treatment. Due to well-equipped hospitals and expert doctors, patients from other countries are visiting India on a medical visa for prostate cancer treatment. Several Indian oncologists have a well-earned reputation in the field of cancer treatment. India is second to none when it comes to treating prostate cancer.
In India, prostate cancer treatment started with a few conventional open surgeries a few decades back. Today, Indian hospitals have excelled in uro-oncology, laparoscopic and robotic uro-gynae procedures. The treatment is personalized for each patient considering multiple factors like the stage of cancer, age and health status of the patient etc. To ensure that the patients get the right treatment at the right time, Indian hospitals conduct various tests like ultrasounds, PSA blood tests, digital rectal exams etc. A perfect diagnosis is followed by an effective treatment and the patient is suggested various options for the further course of action.
If the malignant tumour has not spread out of the prostate gland and the neighbouring tissues are not infested, surgery is the best option. Leading hospitals prescribe Radical Prostatectomy surgical procedure for prostate cancer. In this surgery, the entire gland and surrounding tissues are taken out efficiently without causing harm to other nearby organs. High-Intensity Focused Ultrasound (HIFU) and Open Robot-Assisted Laparoscopic Prostatectomy have made the surgical procedure more precise and safer. Of late, robotic surgeries are becoming mainstream in prostate cancer treatment and the success ratio is highly encouraging.
The cost of prostate cancer treatment in India is lower in comparison to the developed countries. Indian hospitals are equipped with cutting-edge technology and tools to treat patients with high efficiency. Patient satisfaction ratio and success rate of Indian hospitals are also very high. However, the cost of treatment depends on many factors like the hospital you choose, type and stage of cancer, type of treatment and the oncologist. Experienced oncologists charge higher fees than newly established oncologists. Hospital stay is another factor majorly contributing to the cost of cancer treatment. Some hospitals with advanced tools and technology and better facilities have higher charges for the hospital stay. The cost of treatment may vary as per the choices you make for the entire course of treatment.
Livonta Global can help you get the best cancer treatment at leading hospitals of India at an affordable rate. The company is well-connected with the hospitals and expert doctors pan India. The list of top 5 hospitals in India for prostate cancer treatment will serve as a guide for you to decide the best hospital for your treatment.
1. BLK Super Speciality
Address: BLK Super Speciality Hospital 5, Pusa Road New Delhi, Delhi India
Visit:  blk super specialty
2. Apollo Gleneagles Hospital, Kolkata
Address: Canal Circular Road, Kadapara, in Phool Bagan area of Kolkata.
Visit: Apollo Gleneagles Hospital
3.  A.J. Hospital and Research Centre
Address: A unit of Laxmi Memorial Education Trust (R) Kuntikana, Mangaluru – 575004 Karnataka, India
Visit: A.J. Hospital and Research Centre
4. Gleneagles Global Health City
Address: 439, Cheran Nagar, Perumbakkam, Chennai – 600 100, Tamil Nadu
Visit: Gleneagles Global Health City
5. Dharamshila Narayana Superspeciality Hospital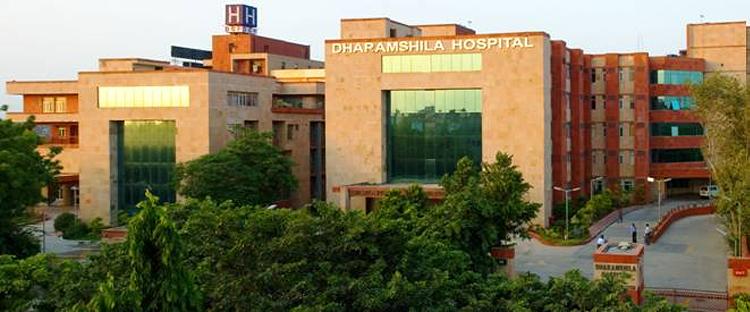 Address: Canal Circular Road, Kadapara, in Phool Bagan area of Kolkata.
Cancer Treatment
Tags: best cancer treatment in India, Best Prostate Cancer Treatment Hospitals in India, Prostate Cancer Treatment