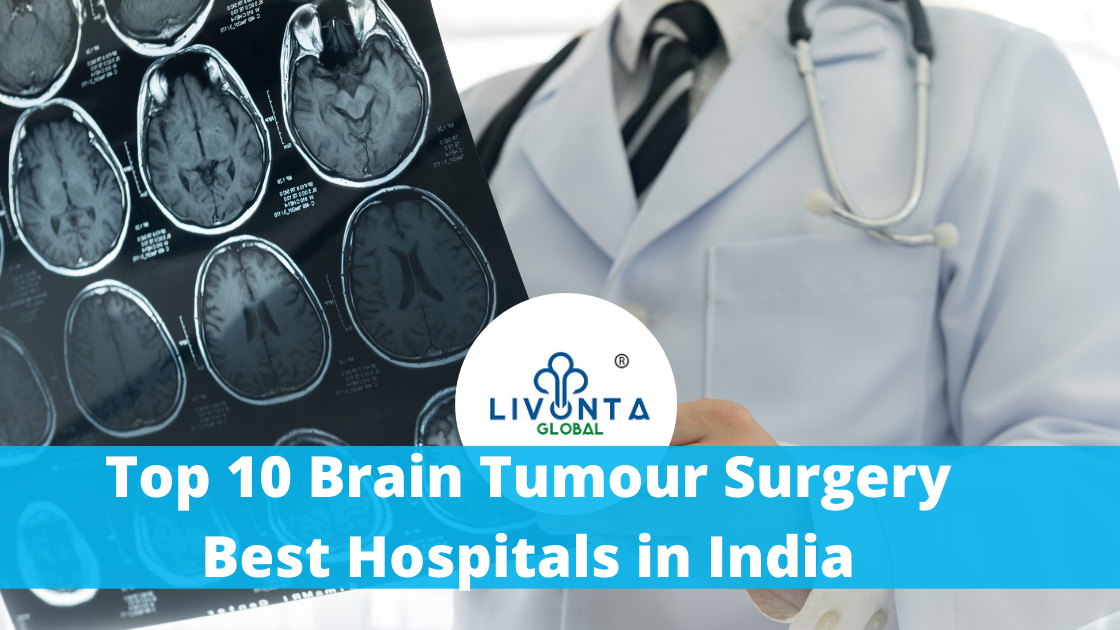 The brain tumour is a mass of cells that grow and divide wildly and abnormally in the brain tissues. As medical technology is burgeoning day by day, you will find a chunk of treatment options for a brain tumour. If you are looking for brain tumour best hospitals in India, you should consult with Livonta Global for the best cancer treatment in India.
But before that, let's find out what is a brain tumour, causes, symptoms, and treatment options.
Brain tumour
A tumour is a type of tumour which originates in the brain. Not all brain tumours are cancerous, benign tumours are not aggressive and normally do not spread to surrounding tissues. But you should diagnose and treat them, else they will become life-threatening and cancerous.
Causes of Brain Tumour
The prime causes of brain tumours are still unidentified, the experts revealed only some risk factors which are responsible for this cancer.
Children who received radiation are more susceptible to developing a brain tumour as adults.
Age is also a risk factor for a brain tumour. People who are above 65 are diagnosed with brain cancer at a rate four times higher than younger people.
Signs and symptoms of Brain Tumour
Though symptoms may vary from person to person, still, people with a brain tumour may experience some common symptoms which we are going to mention.
Severe and changing pattern of headaches.
Unexplained nausea or vomiting.
Feeling of numbness or tingling in the arms or legs.
Hearing problem
Lack of concentration.
Feeling lethargic or increased sleep.
Confusion in daily matters.
Changes in behaviour or personality.
Difficulties in speech.
Muscle jerking or twitching.
Unable to recognise or problems with memory.
Problem while balancing.
Problems in vision.
Loss of sensation in the arm or leg.
Speech difficulties
Treatment Options For Brain Tumour
The treatment options for a brain tumour depends on several factors.
Type of tumour
The size and location of the tumour
The growth rate or severity of the tumour
The overall general health of the patient
Surgery:
Surgery is an effective and easy method which helps the surgeon to remove the tumour as much as possible. When tumours are tiny in size, the surgeon can easily separate it from the surrounding brain tissue. But in some cases, a tumour can't be separated from the surrounding tissues as they are located in the much sensitive area of the brain.
Chemotherapy:
In this process, chemotherapy drugs are used to kill cancer cells. But only a few chemotherapy drugs are available for a brain tumour. Chemotherapy drugs can be given orally in the form of a pill or injection.
Radiation therapy: In radiation therapy, high-energy rays such as protons or x-rays are used to kill the tumour cells.
Targeted drug therapy: This therapy focuses on specific abnormalities which are present within the cancer cells and blocks them and help the cancer cells to die.
Cost of Brain Tumour Treatment
The cost of brain tumour treatment in India is quite affordable as compared to other developed nations. The average cost of brain tumour surgery is Rs.2,50000- Rs. 4,50000. Since the cost is much lower, hence many people come to India for their treatment. Brain tumour surgery is completed on the same the day, hence the cost will never burn your pocket.
List of top 10 brain tumour best hospitals in India
1. Apollo Hospitals, Bengaluru in Gurgaon, Haryana, India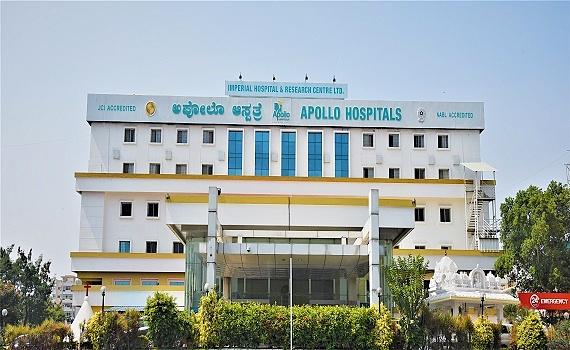 Apollo Hospitals, Bengaluru is a tertiary care flagship unit of the Apollo Hospitals group. It has indeed made a mark in the city of Bengaluru.
The Apollo Hospital at Bannerghatta is a 250 bedded hospital, beautifully landscaped and spread over an area of 2,12,000 sq ft. The hospital is equipped with state-of-the-art technology making it a powerhouse of healthcare in Bengaluru and is committed to invest in the latest medical technology on par with the latest worldwide developments to ensure that every one of our patients benefit from the latest knowledge.
Visit:
2. Gleneagles Global Health City in Chennai, Tamil Nadu, India
The sprawling, 21-acre facility in Perumbakkam, Chennai is the largest facility of Gleneagles Global Hospitals India. With over 1000-beds and accreditations from leading agencies, the facility is one of the best for advanced healthcare in India. The hospital offers the end-to-end spectrum of advanced healthcare facilities as well as excellent facilities for research and advanced education.
Visit: Gleneagles Global Health City in Chennai
3. Nanavati Hospital in Mumbai, Maharashtra, India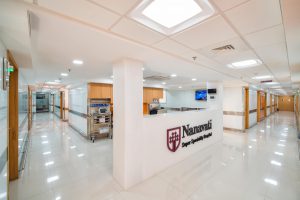 The iconic healthcare institution of Mumbai, Dr. Balabhai Nanavati Hospital, blessed by Mahatma Gandhi and inaugurated in 1950 by India's first Prime Minister Jawaharlal Nehru, is now reintroduced Nanavati Super Speciality Hospital. Nanavati Super Speciality Hospital has been at the forefront of healthcare for 65 years. Today the 350-bed facility housing 55 specialty departments offers a plethora of services in practically every field of modern medicine and health care. Our well-equipped hospital rooms, state-of-the-art departments, and technologically advanced systems are all backed by the expertise and reputation of over 350 consultants, 100 resident doctors, 475 nursing staff and 1500 employees.
visit: Nanavati Hospital
4. Artemis Hospital in Gurgaon, Haryana, India
At the onset with the brief introduction of Artemis Hospitals, established in 2007, as tertiary care, multi-specialty healthcare venture launched by the promoters of the $2.5 billion Apollo Tyres Group. It is one of the 18 prestigious hospitals in India to have JCI accreditation, also been awarded the "Best Super-Specialty Hospital". Designed as one of the most advanced in India, Artemis Hospitals provides a depth of expertise in the complete spectrum of advanced medical & surgical interventions, a comprehensive mix of inpatient and outpatient services.
Artemis has put modern technology in the hands of renowned from across the country and abroad to set new standards in healthcare.
Visit: Artemis Hospital
5. BLK Super Speciality in Delhi, Delhi, India
Eminent Obstetrician and Gynaecologist, Dr. B.L. Kapur had established the BLK Super Specialty Hospital in 1959. It was inaugerated by the then Prime Minister of India, Pandit Jawahar Lal Nehru.
The super specialty hospital is both NABH and NABL accredited.
It has 17 modern well equipped modular operation theatres and houses 650 beds.
BLK Super Specialty Hospital is the first of its kind in the NCR region to install and start the use of automatic pneumatic chute system that enhances the health care.
It has one of the largest critical care programmes in the region with 125 beds in different intensive care units in Medical, Surgical, Cardiac, Paediatrics, Neonatology, Neurosciences and Organ Transplant departments.
Visit: BLK Super Speciality in Delhi
6. Indraprastha Apollo Hospital in Delhi, Delhi, India
Indraprastha Apollo Hospitals, New Delhi is a multi-specialty tertiary acute care hospital with 710 beds and one of the most sought after destinations in Asia for healthcare. A state-of-the-art modern facility in the heart of the capital, it is spread over 15 acres and has a built-up area of over 600,000 square feet.
Indraprastha Apollo Hospitals, New Delhi is a flagship hospital of the Apollo Hospitals Group that epitomises the clinical excellence that the Apollo Group stands for. Clinical excellence aims at the best clinical outcomes for patients. Achieving the best clinical outcomes for the most complex diseases requires the best staff supported by latest technology and standardized processes.
Visit: Indraprastha Apollo Hospital
7. SevenHills Hospital in Mumbai, Maharashtra, India
SevenHills Hospital has established itself as a comprehensive healthcare system in Visakhapatnam and Mumbai providing multi-specialty tertiary care services to more than 50 million people across six states.
SevenHills Hospital, Mumbai, was commissioned in Mumbai in 2010; a world class integrated Healthcare Delivery System and is situated in Andheri, the bustling suburb of Mumbai. We offer a blend of the finest medical and surgical skills, delivered with compassion, and a patient centric approach, within the reach of everyone.
SevenHills provides comprehensive Healthcare spanning from basic facilities in Preventive Health to most sophisticated Curative technology in an ethical, transparent & patient friendly environment, by highly competent team of medical professionals & compassionate support staff.
Visit: SevenHills Hospital
8. A.J. Hospital and Research Centre in Mangalore, Karnataka, India
A.J. Hospital & Research Centre (AJHRC) is a leading advanced tertiary healthcare centre of India. Situated in the coastal city of Mangalore in Karnataka state, AJHRC was founded in the year 2001 on the visionary initiative of Dr. A.J. Shetty, a reputed entrepreneur, educationist and philanthropist of the city.
A.J.Hospital & Research Centre specialized and providing service to more than 30 major medical disciplines, embracing new technologies to offer high level healthcare that matches the best in the country. A.J. Hospital & Research Centre is a unit of Laxmi Memorial Education Trust®, which is a premier institution which manages a string of professional colleges including a medical college, dental college and an engineering college.
Visit: A.J. Hospital and Research Centre in Mangalore
9. Dharamshila Narayana Superspeciality Hospital in Delhi, Delhi, India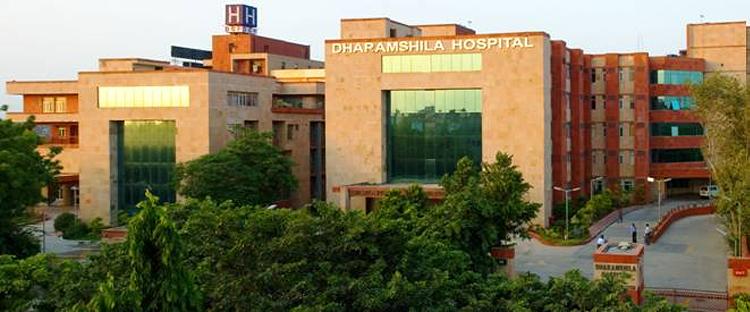 DharamshilaNarayanaSuperspeciality Hospital (DNSH) is now managed by Narayana Health, A Pan India Multispecialty Group founded by Dr. Devi Prasad Shetty with a dream of making high quality healthcare affordable. Founded in 2000 by renowned Cardiac Surgeon Dr. Devi Prasad Shetty, Narayana Health is India's second largest Hospital Network and provides Comprehensive, Super specialist care in over 30 medical specialties. The group operates a network of Hospitals, Heart Centers, and Primary Care Facilities in cities across the country including Ahmedabad, Bangalore, Bellary, Davangere, Delhi, Dharwad, Durgapur, Guwahati, Jaipur, Jammu, Jamshedpur, Kolar, Kolkata, Mahuva, Mumbai, Mysore, Palanpur, Raipur, &Shimoga.
10. Apollo Gleneagles Hospital in Kolkata, West Bengal, India
Apollo Gleneagles Hospital, Kolkata has introduced itself as the pathfinder, in the arena of private health care system. The modern and innovative health care processes are used here with the high level of perfection and care, with the association of world class professionals and experts, you can avail world class treatment facilities. The Apollo Group of Hospitals and the Parkway Heath of Singapore has moved forward in a purposeful way and created this 700-beded multispecialty hospital.
With the vision of accelerating international standard treatment facilities in India, Apollo Gleneagles Hospital, Kolkata takes an oath to 'Touch a billion lives'.
Livonta Global is very popular in the field of medical tourism. The company is partnered with many reputed hospitals who are providing the best cancer treatment in India at affordable prices. If you are looking for the best and excellent treatment for brain tumour so that your tumour doesn't enter in the advanced stage, you should reach Livonta Global for your treatment guidance.
Brain Tumour Treatment
Tags: best brain tumor surgery hospitals, Best Hospitals, brain tumor best hospital, Brain Tumor Surgery in India, how much does brain tumor surgery cost in india